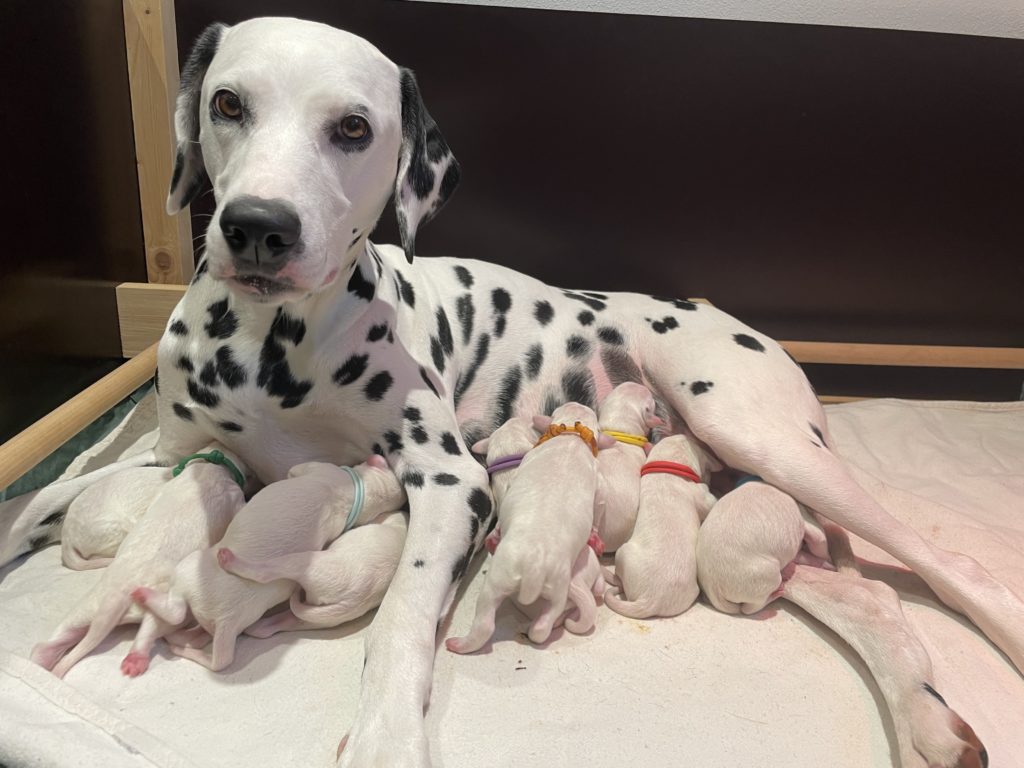 On Wednesday 1st November 2023, Nirvana delivered 9 puppies, 4 males and 5 females.
Everyone is going well and Nirvana confirms that she's an amazing mom. As for its first litter, she's acting instinctively, naturally and gently.
We are amazed by watching them and we are delighted to see these 4 males and 5 females grow.
Pictures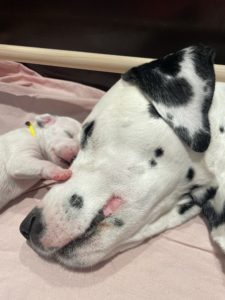 Parents
For this second litter, we went back to Belgium by Julie Pluymers. Indeed, as soon as I saw her ad about Ralph as new studdog, I falled in love and, after checking the bloodlines, I immediately wrote her.
Ralph is a powerful, beautiful dog with an incredible character, full of energy and joy of living. With Nirvana, her "first love", he was confident, seductive, very respectful and tender.
We are proud to have him as the father of our litter B.
Thanks to Julie Pluymers for accepting this "wedding"!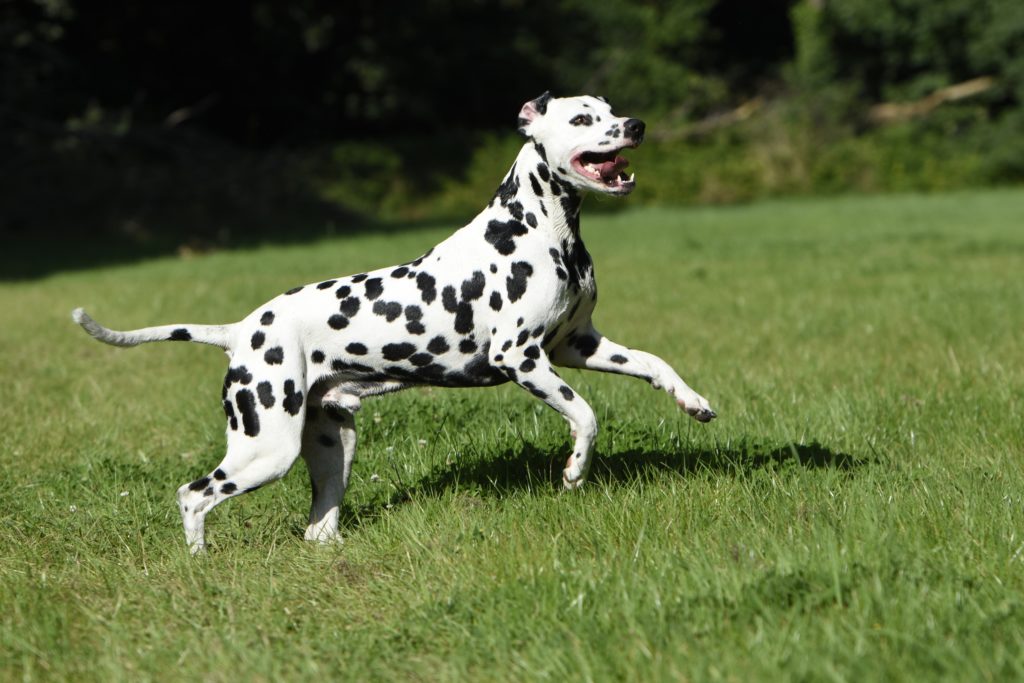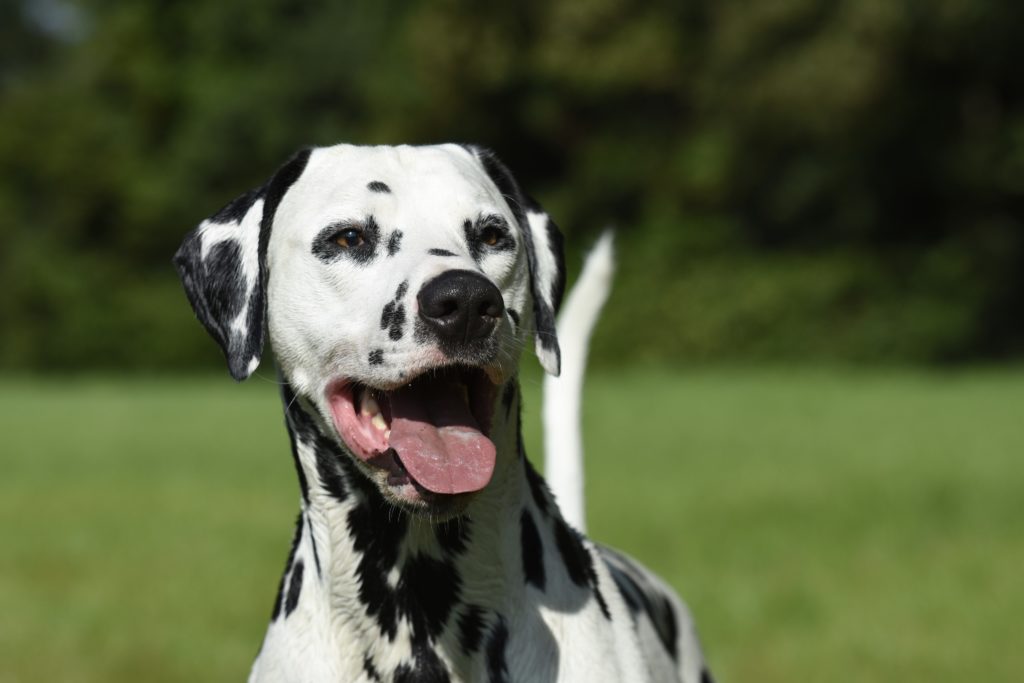 Pedigree of puppies
Parents

Grands-parents

Arrière-grands-parents

Arrière-arrière-grands-parents

BE Ch




A Spottified Vivid Expression




LOSH 01350382
blanc-noir ; HD-A

N UCH




Price-Spot's Kal El




NO-44602/19
blanc-noir ; HD-B

DK Ch, SE Ch, DKV'16




Spotdog's Freaky Friday




SE-19315/2015
blanc-noir

Sweetspots Top Gun




CKC-WE274334, blanc-noir

Spotdog's Compass Card




SE-58517/2012 blanc-noir

NORD UCH




Price-spot's Hope And Glory




NO-38389/15
blanc-brun

City Kid's Dantes Peak




S-64609/2006, blanc-noir ; HD-A

Price-Spot's Dreamcatcher




NO-37896/12, blanc-brun




A Spottified Secret Crush




LOSH-1290661
blanc-noir ; HD-A

German CH VDH & Club




Christi Ormond Magic Moon




VDH-DZGD331/14
blanc-brun ; HD-A


Absolem vom Gramzower Kloster




VDH-DVD3991, blanc-brun

Christi Ormond Immortal Soul




VDH-D/B29218, blanc-brun; HD-A

INT, BE Ch




Caldecacre Rumours N Gossip




KC-REGAR0066201
blanc-noir ; HD-A

Caldecacre Chimango




KC-REGAP3479708

Be A Star de Los Perros Santos




KC-REGAP091093, blanc-noir

Ouala Oh La'Licious von Stella Matutina




SHSB/LOS 775669
blanc-noir ; HD-A

Asshay vom Gramzower Kloster




VDH/DVD 3994
blanc-noir ; HD-A

Ch. Troilus De Puech Barrayre




LOF 9 DAL 02370/03128
blanc-noir ; HD-A

Ch. Spotnik's Special Selection




N 02842/99, blanc-noir ; HD-B

Ch. Prunella Fitzgerald De Puech Barrayre




LOF 9 DAL 020691/03463 ; blanc-brun : HD-A

Suze vom Gramzower Kloster




VDH/DVD 2987
blanc-brun ; HD-A

Ch. Dalming's Hocus Pocus




N 06127/03, blanc-brun ; HD-A

Penelope vom Gramzower Kloster




VDH/DVD 2364, blanc-noir ; HD-A

SK Ch., AT JCh.




Ch. Imani Ilayla Tianee von Stella Matutina




VDH/DZGD 823/17,(FCI)
blanc-brun ; HD-A

INT Ch., DT Ch.Club, DT Ch. VDH, DK Ch., N. Ch., VDH-ES 2011+2013, DT JCh., VDH, DT JCh. Club




Ch. Spotnik's First Farao For Ormond




NO37316/09
blanc-noir ; HD-A

Ch. Knock on Heaven Door Raul




CLP/6286/08, blanc-noir ; HD-A

Ch. Solbo's Holly




S 31498, blanc-noir ; HD-A

Autumn Aura Divina von Stella Matutina




VDH/DVD 3616
blanc-noir ; HD-A

Ch. Christi Ormond Coppola




VDH/CDF-2279/06, blanc-brun ; HD-A

Odessa von Schloss Thiergarten




VDH/DVD 3161, blanc-noir ; HD-B